Table tennis training sessions
The club welcomes all players, regardless of age or ability. So, if you are looking to try something new, or perhaps haven't played for years, or even if you are an experienced player, then Smash has suitable options for you. The club is keen to encouraging new people of any age from school to over 40's to take up our sport, and the club will do everything in its power to help further your development in the sport.
Four reasons to train: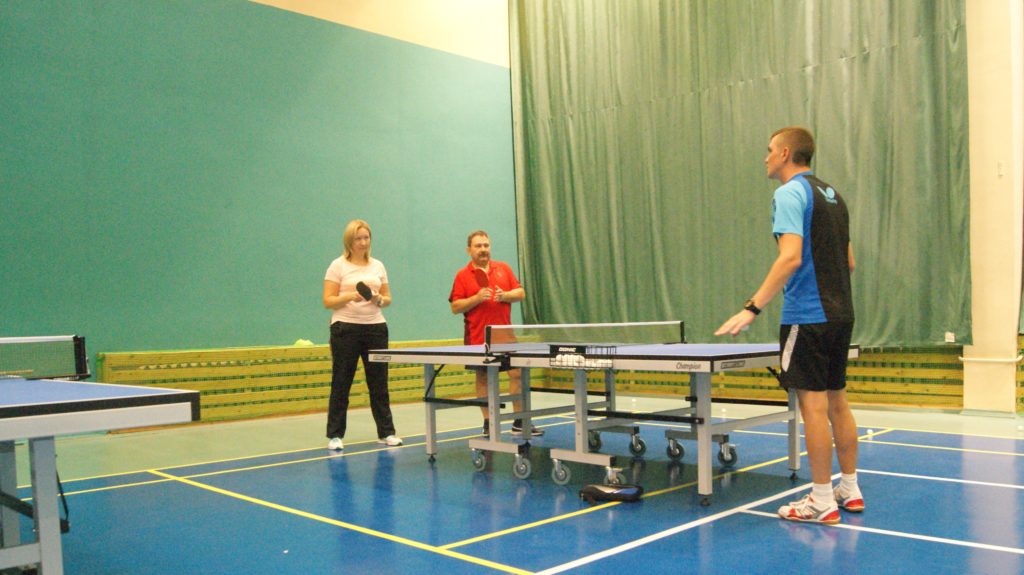 Your stands and the way you hold the paddle are extremely important techniques. We learned these things when we begin playing therefore if we were not taught by a professional, their will most likely need to be corrections.
Your knowledge of how to stand or keep the paddle depends on where you learned to play table tennis on the street with amateurs or in the gym with professionals. How do you place your fingers according to technic when you hold the paddle? How to serve the legs? Such subtleties are very important.
Personal attention. Our coach will give professional advices: which paddle better to choose, where to buy best paddle and other features.
Fast growth. You will grow faster as a professional. A regular trainees help to grow faster. To get the best result combine private and group classes.
Your rival will become your friend at some moment. This is what happens when you get personal trainings. We coach you to win.
If you want to become better at table tennis, learn from the best. Learn the coaches' technique, concept, acceleration at the right timing, hit with the legs, how to serve, and tactic for special situation, fundamental skills, backhand techniques, and many more. We want players to remember ant apply the coaching tips in real situation.
All of that is to improve your technic. You must be able to adapt to master a new play style!
Table tennis schedule
Monday
Tuesday
Wednesday
Thursday
Friday
Saturday
Sunday
Adult classes
Baumanskaya
20:00 - 22:00

Baumanskaya
20:00 - 22:00
Children's classes
Blocking training sessions
(pandemic)
Table rental
Starting at 20:00
Entry required

Starting at 20:00
Entry required

Lesson prices
Court
rental
Rates
(weekdays/weekends)
Duration
From 20:00 – 22:00
400 rub.
1 hour
Private
classes
Price
Duration
Pro coach classes
1700 rub.
1 hour
Group
classes
Цена
(взрослые/дети)
Время
(взрослые/дети)
Single visit
650/400 rub.
2 hours / 1 hour
4 classes*
2500/1500 rub.
2 hours / 1 hour
8 classes*
4900/2800 rub.
2 hours / 1 hour